2018 Winners
2018 GW NVC First Place Winner: Time Table
Time Table is redefining the dining experience by integrating automation, increasing calculation accuracy, and streamlining the wait-list process for diners. Comprised of Jason Kornreich (GWSB '18), Jonas Majaukas (GWSB '18), and Giuliano Senese, the Time Table team won $42,500 in total cash prizes for their innovation app.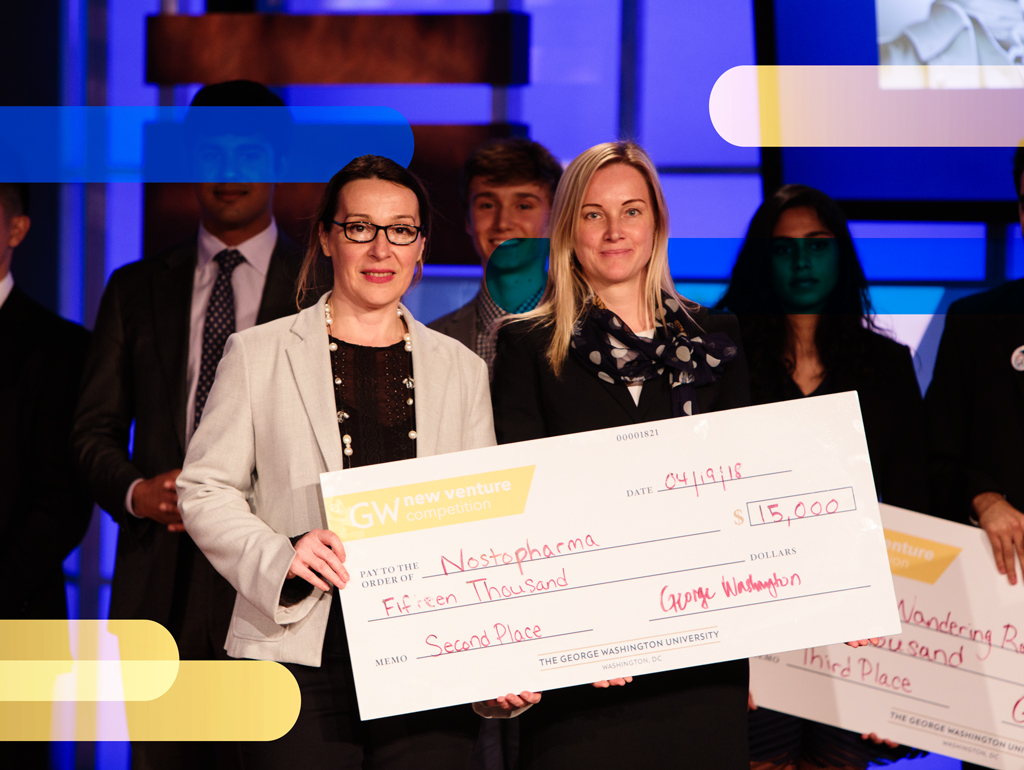 Jelena Jeremic (GWSB '21) and Katya Vert won a total of $25,000 for their treatment for pathological bone growth, a painful condition that affects over 100,000 patients every year.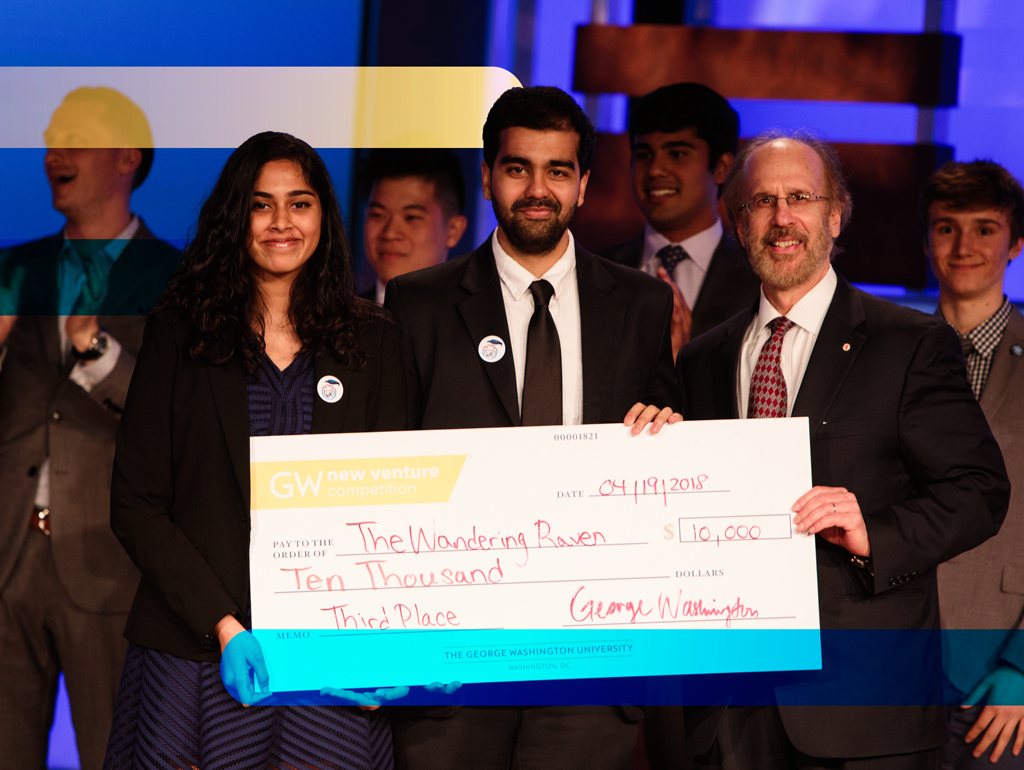 3rd - The Wandering Raven
Mayank Mathur and Trishanya Raju (GSEHD '18) won a total of $17,500 for their e-learning platform that teaches young students creative writing skills through animated videos.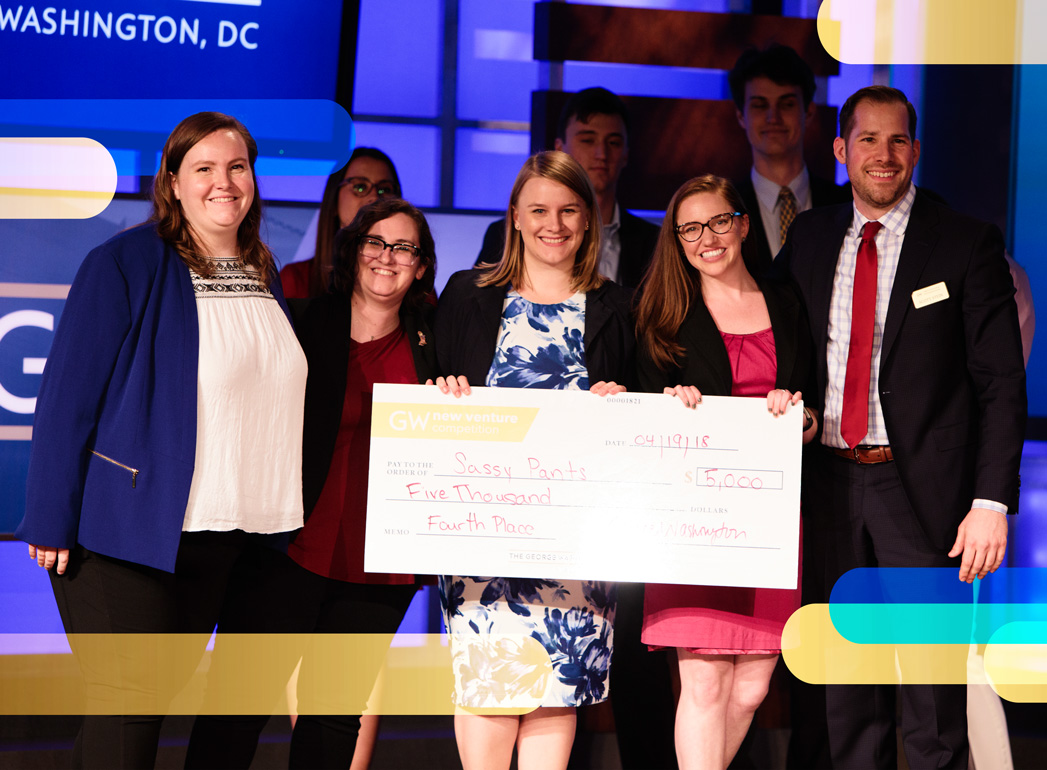 Nancy Calderone, Erin Oliphant (CCAS'19), Elizabeth Terry (GWSB '19), and Tamara Wurst won $5,000 for their innovative and customizable line of athletic apparel. 
Other Finalists
Bendt is a risk-mitigation platform for trading the future earnings of professional athletes. Samuel Bamiboye, Rem Houghton (SEAS '18), John Kuhl (GWSB '18). $10,000. 
DiSTAT helps medical professionals quickly diagnose patients through on-site clinic testing solutions. Isaac Lichtenstein (SMHS '20) and Spencer Lichtenstein. $5,000. 
George Washington University Credit Union helps students with banking and finances. Sahil Pankhaniya (GWSB '21), Chris Trummer (SEAS '21), and Allen Wang (GWSB '21). $5,000. 
Sisterly Questions is an online system of virtual big sisters that offer support and provides a curriculum. Neha Jog (CCAS '20) and Sarah Stupp (CCAS '20). $5,000. 
Sumak is a healthy beverage from the Andes that contains antioxidants and phytonutrients, created for and by women. Andrea Armas (CPS '18). $5,000.
---
Semifinalists
Dahir Solutions Mounir Alfrangy (SEAS'18), Jessica Montgomery (GWSB '20), Raj Rao (SMHS Faculty)
Funder Hero Liana Sherman (ESIA '18)
Global Organization for Applied-Political Leadership (GOAL) Jonathan McGee, MPS (CPS '15), Laura Brendle (ESIA '18)
MeeSee Brittany Wheeler (SEAS '20), Jasmine LeFlore
Motivate-Now Kirthi Narayanan (SEAS '19)
MovementQ Lauren Rosenbaum (SPH '18), Liz Thompson (CCAS '11), Diana Cheng, Gregory Joseph
Power to the People Felipe Bohorquez (GWSB '18), Aditi Seth (ESIA '18), George Raskovic (ESIA '18), Sasan Dehghan
Rise to Peace Ahmad Mohibi (ESIA '18)
UGET Myojeong Kim (GWSB '20), Amy Jung (CCAS '20)
World Esport Players Association (WESPA) Kris Miller (GWSB '19), Jubin Arora (GWSB '19), Maria Elisa Gomes de Almeida (GWSB '18), Ellen Zavian (GWSB '88)
Anzen: Safety GPS Md Shahnoor Amin, Md Shahrooz Amin (SEAS '18)
CWOSS Rohan Patil (CCAS '19), Krishan Shah (GWSB '20), Ibet Ramirez (CCAS '19), Arthur Cronin (CCAS '18)
EZVein Shubham Gupta (SEAS '20), Joseph Spinelli
Harvey Stephanie Moinian (GWSB '19), Jonathan Moinian (GWSB '13)
Information Exchange Framework (IEF) Iliana Maifeld-Carucci (CCAS '19), Asad Hakim, Joseph Haaga (CCAS'18), Vijay Mehra
M-Size Me Yolandra Hancock (SPH Faculty), Kritica Joshi (SPH '19)
NormaChain Chunchi Liu (SEAS PhD '21), Vishesh Javangula (CCAS '19)
Patient Insight, Inc. Jesse Pines (SMHS '18), Sarah Sims
Spark Enterprises, Ahmad Aljaberi (CCAS '20), Nam Tran (SEAS '19), Nathan Carney (GWSB '21)
Deep Space Solutions Mounir Alafrangy (SEAS '18), Jessica Montgomery (GWSB '20), Raj Rao (SMHS Faculty)
Eat Exercise Enhance Alex Berets (GWSB '19)
GreenMake Inc. Cheng Yan (GWSB '19), Yifeng Yu (GWSB '18)
Last Call Erin McGeoy (GWSB '18), Chloe King (ESIA '19), Mitsi Gamble
NomTruck Javier Pereira (GWSB '18), Andrea Starkman (CCAS '18)
Snap Collar Michael Sullivan (GWSB '18), Jack Collins (GWSB '17)
Spekt Virtual Reality Kaitlin Santiago (CCAS '20)
TransferChange Seamus Moran (CCAS '21)
Waist Grippers Raffi Garnighian (GW LAW '18), Adrienne Greenberg
2018 New Venture Competition Highlights